Rolex is a classic brand known by all. Every piece is a symbol of quality and status, functioning as evidence of perseverance and taste. With its quality, precision, and design, Rolex sits in a unique position of excellence. Our collection of Rolex watches is curated expertly to offer you vintage and new Rolex watches that reflect the brand's high status. Browse our extensive collection below.
Since the first Rolex in 1905, the brand has been creating incredible products, the quality of which had never been seen before. Hans Wilsdorf, a German businessman and technician, was the one to found Rolex.
He is also credited with inventing a mechanism that allows a watch to be wound by moving the wrist, called an automatic watch.
This groundbreaking mechanism introduced a level of ease to wearing watches by eliminating the need to wind them by hand daily. The Rolex wound itself every day, just by being worn.
When the brand name was registered in 1908, Wilsdorf claimed it was a meaningless one. More than a century later, Rolex is far from meaningless; the name is widely famous, even outside the watch-wearing community.
Watches under this name are wanted, both as an investment and for personal use, and each watch tells a unique story. Treat yourself to a new or one of our vintage Rolex watches and browse our collection above.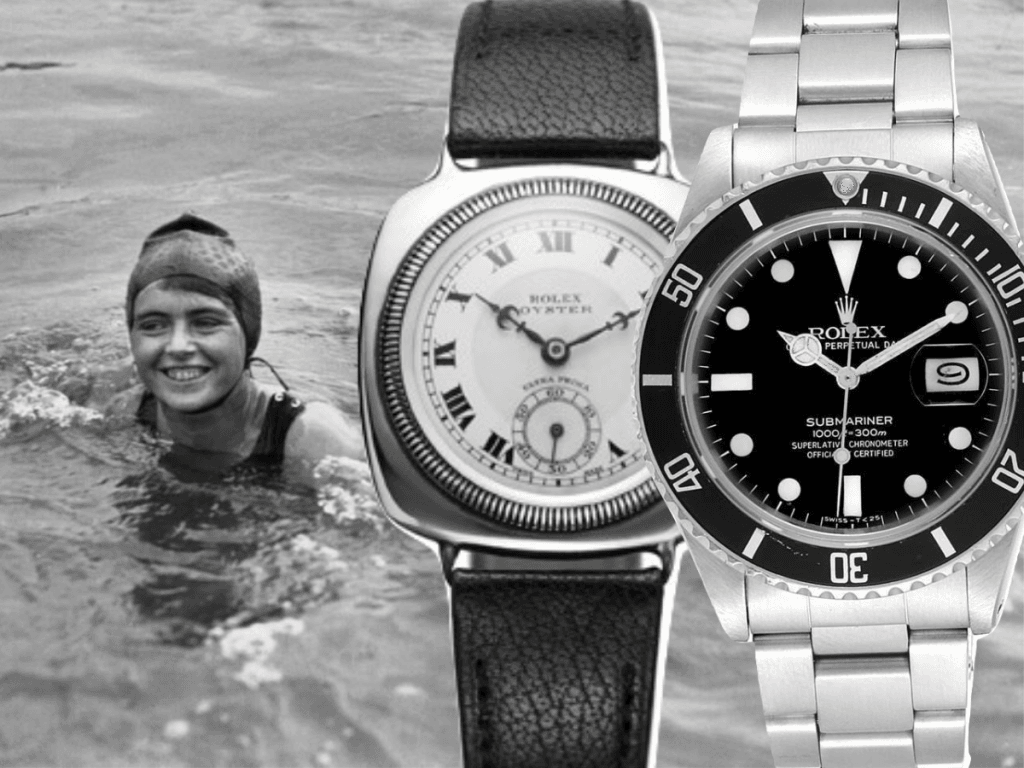 Rolex Extraordinary marketing stunts
Making watches is not where Rolex's expertise ends. Their marketing has a legacy of excellence. For example, they were the first to create a water-resistant, dirt-resistant and shock-resistant watch case. These innovations changed the standards for watchmaking and were excellent at impressing the public.
But to really garner attention, a highly impressive stunt was performed. In 1927, Rolex gave someone the challenge of swimming the Channel between France and England with a Rolex Oyster on his wrist. This all demonstrates Rolex's power, and where its name was from: It was as tight as an Oyster.
Craftsmanship and Quality
What sets Rolex apart from other watch brands is its unparalleled craftsmanship and attention to detail. Each Rolex watch is assembled by hand by highly skilled watchmakers who carry on the brand's tradition. These watchmakers are masters of their craft and have years of experience working with the finest materials and complex watch mechanisms.
Every component of a Rolex watch is carefully manufactured and tested to ensure the highest standards of precision and reliability. Rolex uses the finest materials, including high-grade stainless steel, 18-karat gold and platinum. Watch cases and bracelets are crafted with the utmost care and attention to detail, resulting in an unparalleled finish.
Rolex watches are subjected to rigorous quality control and extensive testing procedures to ensure that they meet the brand's high standards. Each watch is individually tested and adjusted before it leaves the factory. This dedication to quality has earned Rolex a reputation as one of the most reliable watch brands in the world.
Moreover, Rolex has its own laboratory, where the brand researches new materials and technologies. For example, Rolex has its own gold foundry, where it produces its own 18-carat gold alloys. This allows the brand to have complete control over the quality and color of the gold used.
The pursuit of perfection is not limited to the mechanical aspects of Rolex watches. Design and aesthetics are also carefully considered. Rolex watches are timeless and have a recognizable style that sets the brand apart from other watch brands. The dials are clearly legible and feature elegant details, while the watch cases strike a perfect balance between functionality and aesthetics.
Rolex watches are characterized by their timeless designs that combine elegance and functionality. Each Rolex watch has its own unique look, but always retains the recognizable elements that define the brand.
One of the most iconic Rolex models is the Submariner. Originally designed for divers, this watch has a rugged look with its robust case and rotating bezel. The Submariner model is available in several versions, including different dial colors and materials such as steel and gold. It is a watch that impresses both underwater and overwater.
Another famous Rolex model is the Datejust. This watch is known for its elegant and timeless look. It has a distinctive date window on the dial, displayed at the 3 o'clock position. The Datejust is available in different sizes and materials, so there is a suitable model for every wrist and taste.
For fans of motorsports, there is the legendary Rolex Daytona. Named after the famous race track in Florida, this watch embodies the adrenaline and speed of motorsports. The Daytona has a chronograph function and a tachymeter on the bezel that can measure speeds. It is a favorite watch among collectors and lovers of classic sport watches.
In addition to these iconic models, Rolex offers many more choices. Whether you are looking for a classic dress watch like the Cellini, a rugged and functional tool watch like the Explorer, or a luxurious watch with gemstones like the Pearlmaster, there is a Rolex watch to suit you
Rolex watches are more than just time pieces; they represent a lifestyle and status. Wearing a Rolex is a symbol of success and sophistication. Rolex watches have always been the choice of world leaders, celebrities and visionaries, and are considered the ultimate status symbols.
Rolex's heritage and reputation contribute to its allure and prestige. The brand has a long history of association with important events and achievements. Rolex watches have been worn by explorers, sports icons and visionary leaders around the world. These watches have adorned the wrists of pioneers in aviation, expeditions to the deep sea, mountaineering and other pioneering achievements.
Rolex is also closely associated with the world of sports. The brand has long been involved in several sports, including tennis, sailing, golf and auto racing. Rolex is official timekeeper of prestigious events such as Wimbledon, the Masters golf, the Rolex 24 At Daytona and the 24 Hours of Le Mans. Through these collaborations, Rolex is associated with top performance and exceptional skills.
Wearing a Rolex watch not only exudes success and prestige, but it also provides a sense of self-confidence and self-worth. Rolex watches are often passed down from generation to generation and cherished as heirlooms. Owning a Rolex is an investment in craftsmanship, quality and timeless beauty.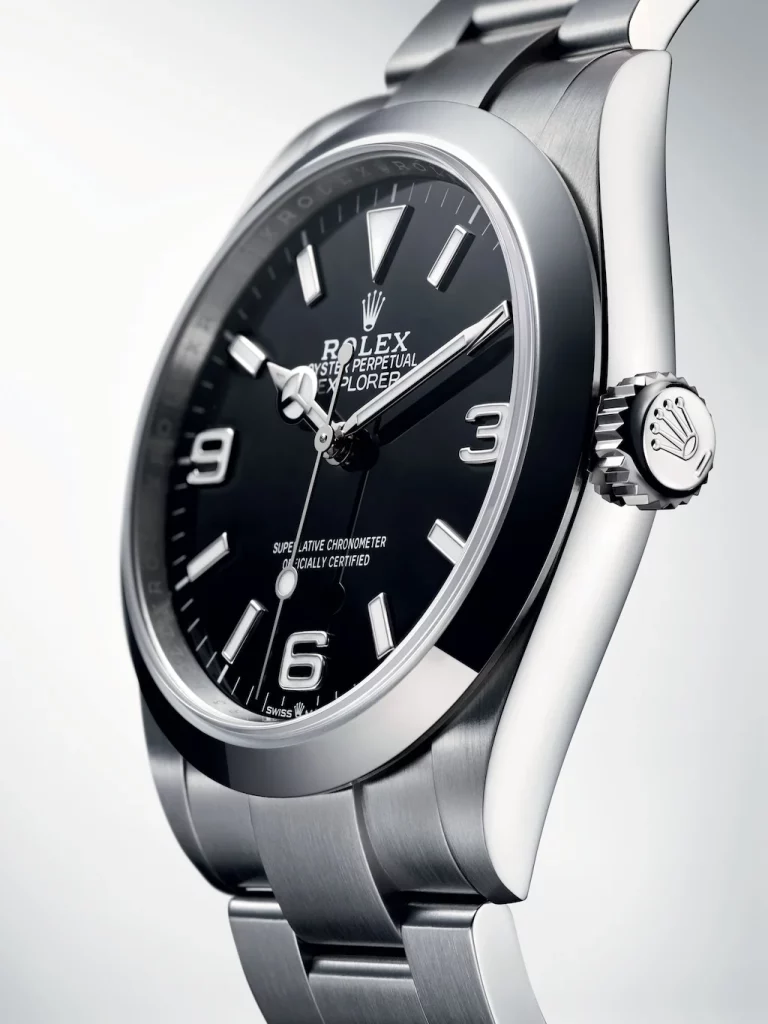 What does a Rolex cost in maintenance?
Rolex watches are known for their outstanding quality and reliability. These Swiss-made timepieces are manufactured with care and craftsmanship. Although Rolex watches generally require little maintenance compared to other brands, periodic maintenance is still important to ensure the performance and longevity of your Rolex. In this article, we will explore the cost of maintaining a Rolex watch, keeping in mind that they are generally less maintenance intensive.
Rolex typically recommends a service interval of about 10 years for mechanical Rolex watches. This means that you should have your watch serviced every 8 to 10 years. Periodic maintenance of a Rolex watch includes several tasks, such as cleaning, lubrication, adjustment and functionality testing. Costs vary depending on the model, age and overall condition of the watch. In general, you can expect an average cost between €300 and €700 for a standard service. For more complex models, such as chronographs or watches with complications, the cost may be higher.
Rolex watches as an investment
For decades, Rolex has earned an unparalleled reputation for quality, craftsmanship and prestige. But did you know that Rolex watches can also be excellent investments? In this article, we delve into why Rolex watches can be an attractive investment opportunity, offering valuable insights for watch collectors and investors alike.
Historical value and brand reputation
Rolex has a rich history dating back to 1905, and the brand has consistently proven to be a pioneer in the watchmaking world. The iconic design, technical innovations and impeccable quality of Rolex watches have made the brand recognized worldwide as a symbol of success and sophistication. This historical value and brand reputation contribute to the value retention and rising prices of Rolex watches in the secondary market.
Limited availability and exclusivity
Rolex is known for its strict control over the production and distribution of watches. The brand maintains a policy of limited availability, deliberately limiting the number of watches produced each year. This creates a sense of exclusivity and scarcity around Rolex watches, which increases demand and ultimately their value. Investors realize that the limited availability of Rolex watches may lead to further increasing demand and prices in the future.
Price appreciation and value retention
Historically, Rolex watches have held their value and tended to increase in value over time. Many popular Rolex models have steadily increased in price over the past few decades, sometimes by significant percentages. This makes Rolex watches an attractive investment option for those looking for a stable store of value. Moreover, unlike some other luxury brands, Rolex offers an excellent international sales network and an established secondary market, making it easier to buy or sell.
The importance of getting it right:
When investing in Rolex watches, it is essential to make the right choices. Not every Rolex model will be equally valuable, and factors such as rarity, popularity and condition of the watch play a crucial role in determining future value. It is important to do thorough research, follow trends in the market and seek advice from experts to make informed decisions when selecting Rolex watches as an investment.
Although Rolex watches have continuously innovated through time, vintage Rolexes have never lost their value. Iconic vintage models, such as the Rolex Submariner, are always increasing in value and each piece carries a unique story. Each watch's characteristic is a special one, and all vintage Rolex watches are indeed special.
Some vintage Rolex watches have a discoloured dial, which collectors will value at higher prices than one in a perfect state. This is because the organic paint that they used could discolour, making these watches special and thus increasing their value.
But that's not all that makes our vintage Rolex collection special. New Rolex watches are noticeably larger than their vintage counterparts. Where current watches often have a diameter of 40 mm or more, they used to be around 36 mm. Vintage Rolexes are thus smaller than they are now, giving a slightly more humble impression without compromising on style and quality.
In addition to new Rolex watches, you will also find pre-owned and vintage rolex watches for sale in our collection. We take the time to carefully select and check each watch for authenticity and quality. Our collection includes popular models such as the Submariner, Daytona, Datejust, GMT-Master and more. Whether you are looking for a sporty dive watch or an elegant dress watch, we have a wide range of options to meet your preferences.
We understand that buying a vintage Rolex is an investment, which is why we value authenticity and quality. Each watch in our collection is carefully inspected by our experts to ensure that it is an authentic vintage Rolex watch. We work with renowned watchmakers and have a thorough knowledge of the history and characteristics of Rolex watches.
We strive to provide you with the best shopping experience possible. We understand that buying a vintage Rolex is a personal choice, and we are ready to help you make the right decision. We are ready to answer all of your questions and provide you with sound advice. Whether you need more information about the condition of a watch, want help choosing the perfect watch, or want to see your watch in person, we are here to help. Please feel free to Contact us!
Are you ready to buy a unique and stylish vintage Rolex watch? Visit our website and discover our stunning collection. With our carefully selected watches, attention to authenticity and excellent customer service, we offer the ultimate experience for buying vintage Rolex watches. Start your search for the perfect watch today and experience the timeless beauty of a vintage Rolex.
Do you want to Sell your Rolex? This is also possible at Timepieces Belgium. We always offer you the best price.
Timepieces Belgium guarantees that all watches in our collection are 100% authentic and have been checked for authenticity by our experts.
We ship our watches fully insured via DHL Express. You can be sure that your purchase will be shipped with care.