Within the opulent world of luxury watches, Rolex's Submariner collection has made a lasting mark. Within this collection of classic timepieces, the Rolex Hulk shines like a true star. With its remarkable green dial and rugged construction, the Rolex Hulk has proven itself to be an unparalleled icon in the watchmaking world.
The Emergence of the Rolex Hulk
The nickname "Hulk" is a direct reference to the striking green color scheme of the dial and ceramic bezel of this particular Rolex Submariner model. In 2010, the Rolex Hulk made its stunning entrance at the Baselworld fair. The gamble to deviate from traditional color palettes proved to be a hit, as the Hulk quickly became a cult favorite among watch lovers and collectors.
More than just a bold color choice, the Rolex Hulk embraces superior materials and masterful craftsmanship. Crafted from Rolex's own 904L stainless steel, the Hulk is known for its remarkable durability and resistance to corrosion. The signature ceramic bezel, which subtly transitions from a deep to a lighter shade of green, adds a dynamic element to the design. 
The 300-meter water resistance emphasizes that the Rolex Hulk is not just an aesthetic masterpiece. Meticulously designed with divers in mind, this watch embodies the reliability and precision that have made Rolex world famous.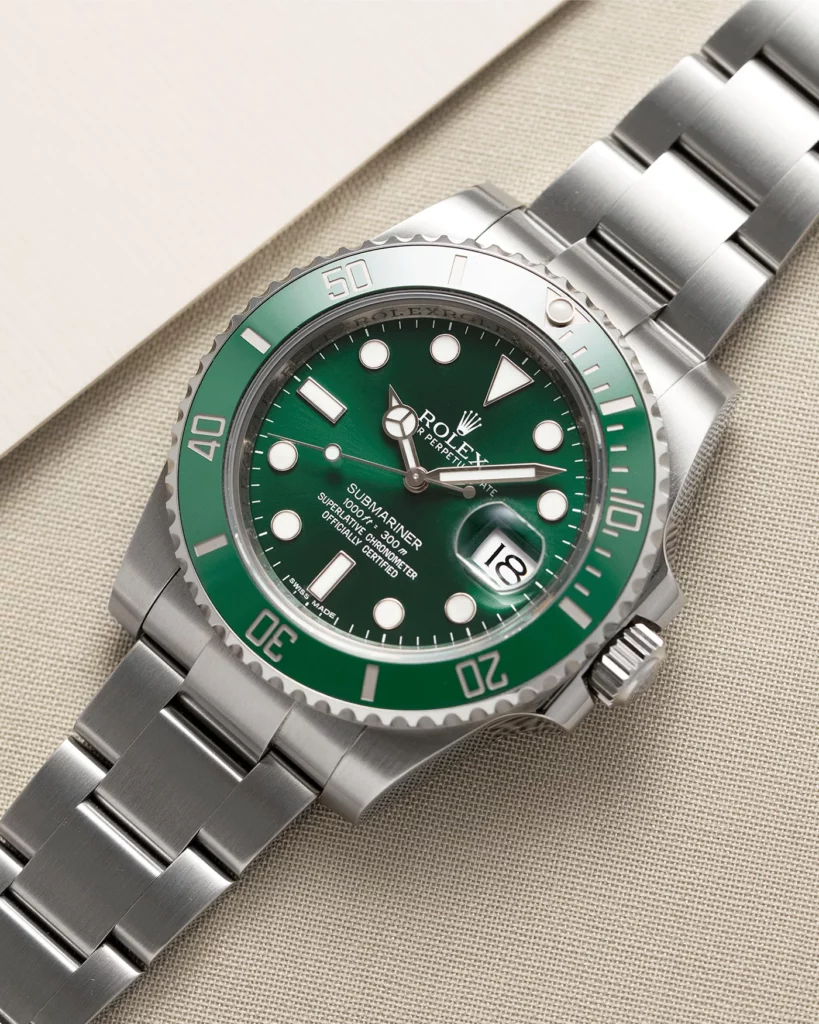 The Irresistible Attraction of the Rolex Hulk
The Rolex Hulk not only charms avid watch enthusiasts; it has a universal charm that extends even beyond the watch community. The combination of its bold color, timeless design and the exclusivity that Rolex exudes as a brand make the Hulk a symbol of sophistication and status. The watch is not just an accessory; it is a powerful statement that conveys class, style and an adventurous spirit.
In addition, the Rolex Hulk has proven its value on the secondary market. This remarkable price increase has contributed to the myth surrounding the watch and made it even more attractive to collectors and investors.
Are you looking for another Rolex sports model that is a good investment at the same time? Then be sure to check out our Rolex GMT-Master II collection such as the Pepsi or Batman!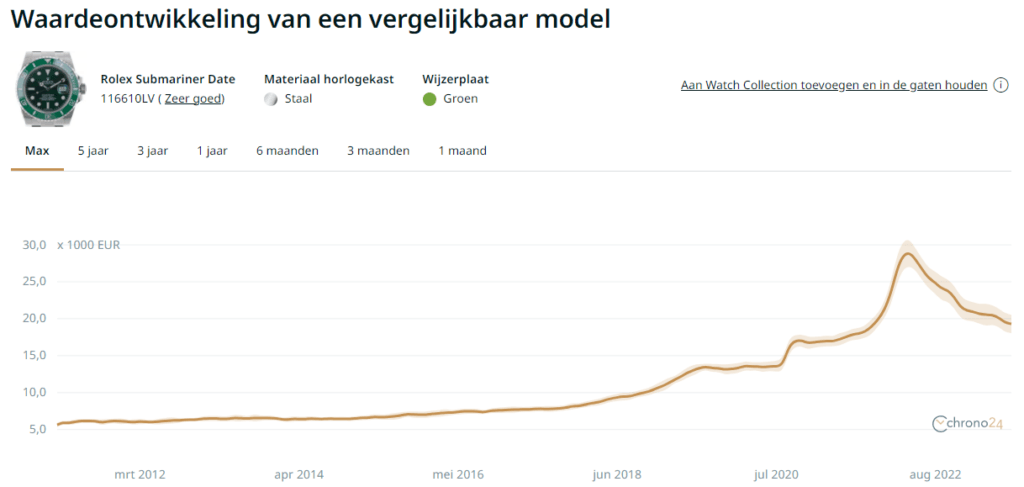 The Rolex Hulk is much more than just a watch; it is a true symbol of excellence and sophistication. With its vibrant green color, unparalleled craftsmanship and timeless design, the Hulk has left a lasting impression. Whether you are a watch enthusiast, collector or someone striving for stylish distinction, the Rolex Hulk offers an experience like no other. With its rich heritage and undeniable appeal, the Rolex Hulk will undoubtedly maintain its status as one of the most sought-after and recognizable watches ever made, with a price that reflects not only its exceptional qualities, but also its unique place in the world of luxury watches.
Looking for a gift to spoil your wife? Then be sure to check out our Rolex Ladies and Cartier collection!