Welcome to our extensive Rolex Kermit collection, a tribute to one of the most legendary watches ever created. The Rolex Kermit, often affectionately named after the iconic character "Kermit the Frog" because of its striking green elements, is not only a watch, but also a symbol of prestige and watchmanship.
A Dive into the History of the Rolex Kermit
The history of the Rolex Kermit begins with its creation as a variation of the famous Rolex Submariner. The name "Kermit" was assigned to this watch because of its striking green color reminiscent of the character "Kermit the Frog" from popular culture. The Rolex Kermit is more than just a watch; it is a timeless symbol of class and sophistication.
The Intriguing Characteristics of the Rolex Kermit
The distinctive green bezel is the most eye-catching feature of the Rolex Kermit. This bezel is not only an aesthetic statement, but also serves a functional purpose as a dive watch. The green of the bezel creates a visual contrast to the dial and case, giving the watch a vibrant look. The Kermit is a perfect balance between technical performance and aesthetic pleasure, which is characteristic of Rolex.
An Outstanding Expression of Watchmanship
The Rolex Kermit is not just another watch, but an expression of the commitment to excellence and craftsmanship that Rolex is known for. Every detail, from the smooth movement of the hands to the refined finish of the case and strap, attests to the pursuit of perfection that defines Rolex. Wearing a Rolex Kermit means embracing a legacy of quality and aesthetics.
Why Choose the Rolex Kermit?
– Green Identity: The green bezel of the Rolex Kermit is not only visually unique, but also carries with it a diving watch tradition.
– Watch Iconography: The nickname "Kermit" adds a touch of charm to the watch, making it more than just a timepiece.
– Heritage of Prestige: Wearing a Rolex Kermit is a tribute to craftsmanship, history and the enduring allure of Rolex watches.
The Value of Prestige: The Price of a Rolex Kermit
When considering the price of a Rolex Kermit, it is important to look not only at the price tag, but also at the value this watch brings. It is an expression of sophistication, craftsmanship and the legacy of Rolex. Whether you are a serious collector or simply a lover of beautiful timepieces, the price of a Rolex Kermit represents the promise of a lasting value that will only grow over time.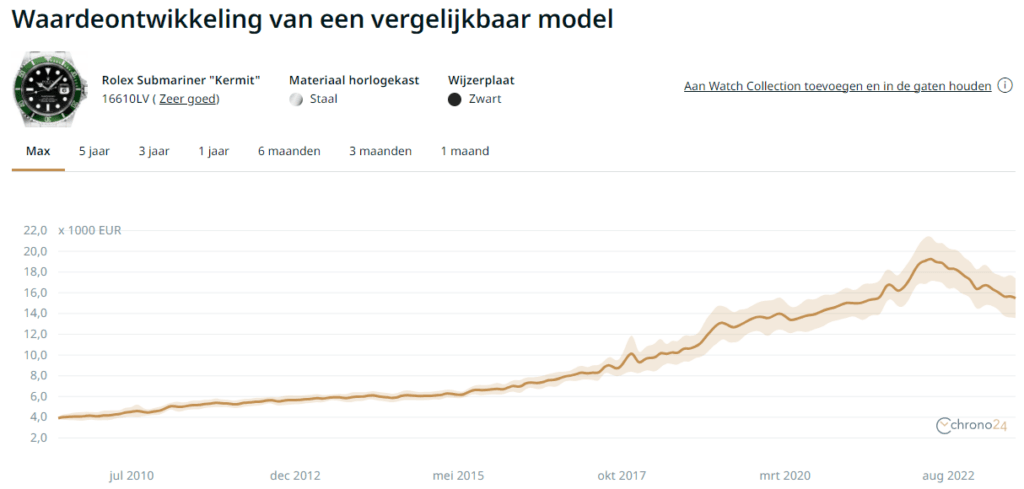 Step into the spotlight of the Rolex Kermit collection and discover for yourself the wonderful world of green splendor, watchmanship and timeless class. Whether you are a seasoned watch collector or just someone who loves wearing the finest accessories, the Rolex Kermit is a testament to elegance and excellence in one breathtaking package.
Rather, are you looking for a dress watch? Then be sure to check out our Rolex Datejust and Day-Date collection!